Student Led Conference 2018
Student Name
1. Communication and Collaboration
a: Phil Kassouf interview
(EAL)
Claim: In facilitating an interview in EAL class for publication, I learned how to develop a thoughtful feature interview and positively collaborate with a media team for a publishable piece.
Evidence: Editing a feature interview forced me to think deeply about the purpose, audience, themes, crucial information, and the fluidity of a story. It was difficult because cutting parts is never easy, but like a design process, the end product was pared down to capture the essence of my intentions as an interviewer, the needs of my audience, and Mr. Kassouf's personality and philosophy of innovation.
Reasoning: How does this connect to my disciplinary skills and the real world?
EAL and language development skills: Inquiring and comprehending non-fiction research and reading (strategies); thoughtfully speaking and listening with teammates and interviewee; developing rich questions; possessing a deeper understanding of the media I consume

Design thinking: Using a design process in the editing stage of the piece, which is a process I can use effectively in high school for media literacy work and the communication of ideas.

Science skills: Applying a developing level of understanding of avionics and engineering in building academic vocabulary to formulate good questions.
b: Thinking Like a Historian
The Arab Spring and Syria
(HUMANITIES)
Claim: Utilizing a "thinking about thinking" (metacognitive) framework helps to critically watch and dissect a documentary film. In doing this, my deep understanding of the Syrian War was cultivated, including everything from a richer understanding of the causes and effects to different perspectives in the crisis that I never considered.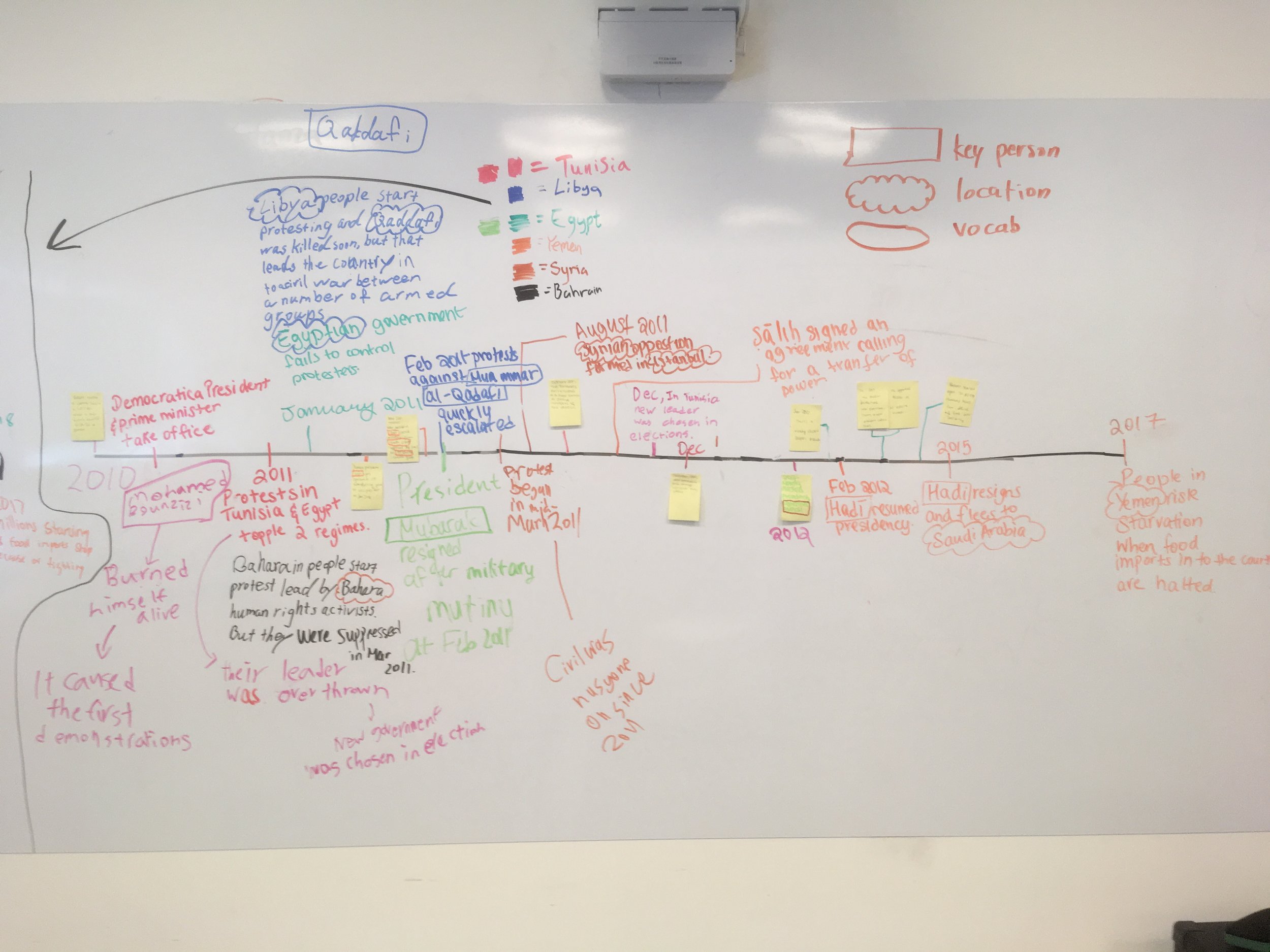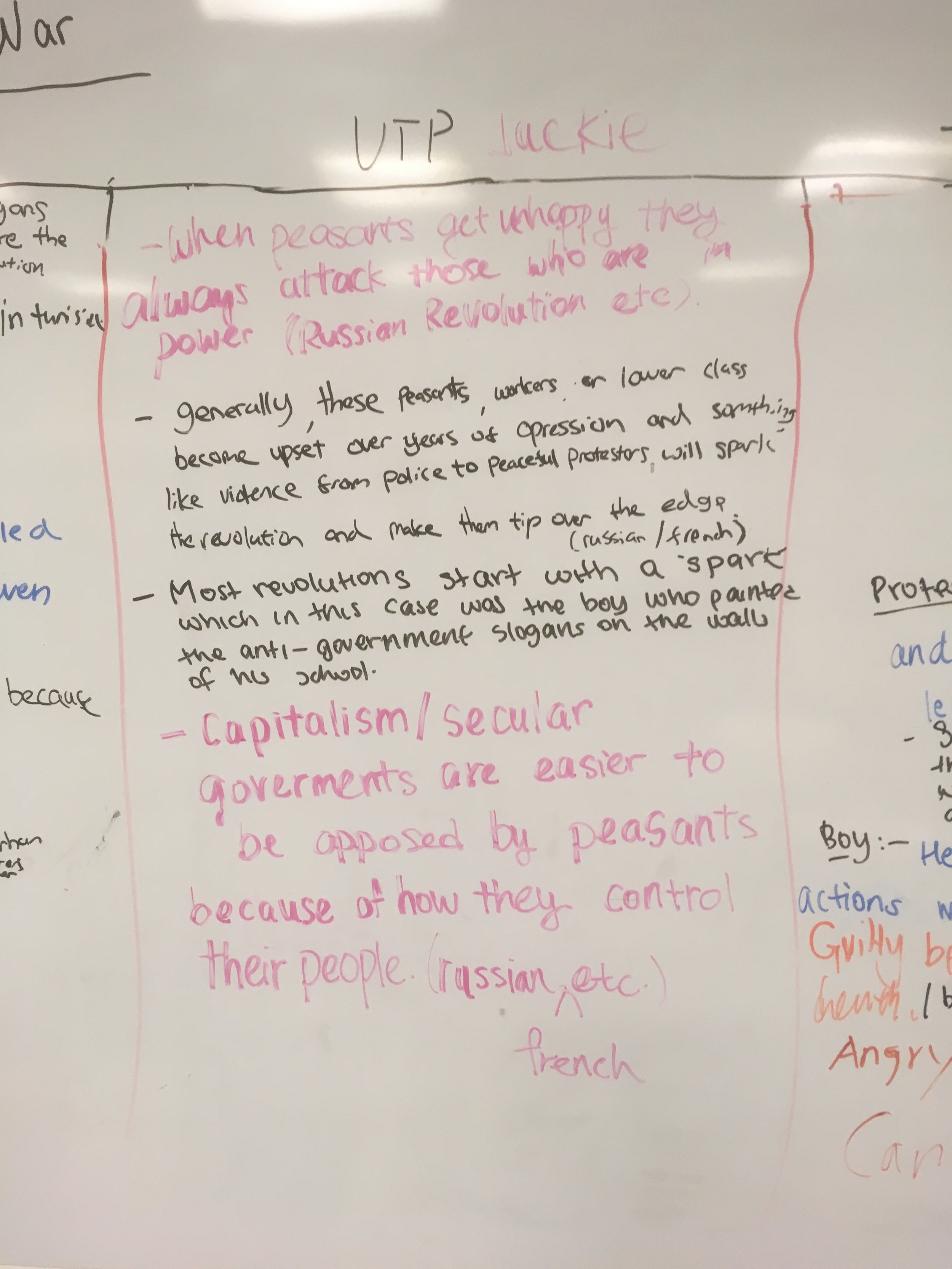 Evidence: After researching the overall events and turning points of the entire Arab Spring, with my team, i created a detailed timeline to build background knowledge and to determine key figures, locations, and terminology. I presented my detailed understanding of the Egyptian portion of the Arab Spring on a team video capture.
Evidence: We critically watched Al Jazeera's documentary, "The Boy Who Started the Syrian War" and then traced the dynamics of the revolution and war through the lens of the film and the Thinking Like a Historian Framework (see below)
Reasoning: How does this connect to my disciplinary skills and the real world?
 
Humanities skills: Purposefully viewing a non-fiction documentary; articulating a historical period with context, key figures, turning points, and academic vocabulary; "thinking aloud about my thinking"; highlighting a richer understanding of the global perspectives related to a modern conflict

History: The value inherent in thinking like a historian; learning from the past: connecting Bloody Sunday to the early Syrian protests; understanding bias and the need to seek truth in interacting with primary sources
C: Square Foot Gardening
(Design Technology / Chinese)
Claim: In designing Square Foot Gardens, I developed my ability to read about a more sustainable gardening methodology. Then, and importantly, I communicated my understanding in the actual creation of garden prototypes and then in the running of a community SFG workshop in tandem with Shared Harvest farmers collective.
Evidence: Effective communication in the Makerspace and outside for the workshop was a key component in safety protocol and quality building.

Evidence: Teaching young community members about making Square Foot Gardens challenged me to test my understanding of what I read on the Square Foot Gardening website and from the SFG book. I also applied my Mandarin in a Makers and community setting, making sure that my young learners were safe and clear about our purpose.
 
Reasoning: How does this connect to my disciplinary skills and the real world?
Literacy and Science Skills: Having to read the SFG book and website pushed me to think critically about why Square Foot Gardens are considered more sustainable and effective small gardens with regards to variables such as soil quality, yields, climate, and so on.
Design Skills: The SFG work expanded my understanding of the design cycle into the realm of action as we took our greater knowledge to the community, working with young visitors, a local Chinese High School, and to lead a workshop at the Global Issues Network engineering conference at Shanghai Community International School.